Sainsbury's -
Putting the mojo back into home cooking
Customer Experience & Service Design / IT Solutions
The objective – Personalised site experience
One of the UK's largest supermarket chains, Sainsbury's have been dedicated to helping their customers live well for less since 1869. However, research showed that customers' perception of their food quality was low. To change this they challenged us to create the UK's number one online food network, building a community designed around the emotional and practical needs of consumers.
1,3

million unique visitors
The challenges – Adding shopper insights to basket
We began with extensive research into both consumers and the food network industry, mapping the journey consumers take as they interact with food related content—from inspiration to recipes to meal planning to how-tos.
Shoppers have become increasingly active online, searching for ideas and products before buying. And while we found that there was a great deal of content available, what consumers are missing is a food content provider that understands their core needs and considerations: budget and time.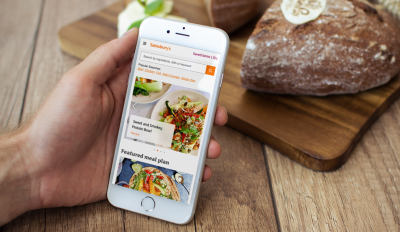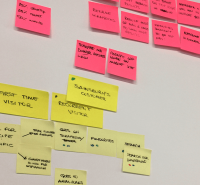 Our solution – Designs to make you checkout
As well as hosting great content, our design for Recipes Hub had to be practical for consumers, and for the business. Working closely with Sainsbury's and their partners, we incorporated 'buy now' functionality, favourites, and Scrapbooks (a way to collect and organise recipes), allowing people to not only personalise their content, but easily turn inspiration into real, home cooked meals.
We tested these features throughout development, and continue to test and optimise as we learn more about people's tastes and behaviours to make sure the platform is always relevant.
A fully responsive site that blends a mix of fun, practical content and tools to help people eat better by embracing the reality of home cooking in everyday life—making it both aspirational and achievable. Recipes Hub caters for what consumers need today, and builds on Sainsbury's core message: live well for less.
The results – A successful serving of live well for less
In the first quarter of 2018, from January to March, the new Recipes Hub gained 1.3 million unique visitors and 3.9 million page views, with people spending between 1-3 minutes on the site. Once on the site, these shoppers not only spent more on groceries than those on other pages of the site, they were also more likely to add ingredients they hadn't purchased before to their basket.
Contact
Do you have questions or you want to evaluate the digitalization of your project in the retail sector?
Contact us