Orange -
Improving the satisfaction of customers who move out
Customer Experience & Service Design / Consulting
The objective – Making life easier for people who are moving
To make life easier for customers during the complicated period of moving out, Orange called on ekino's Experience & Service Design department to improve the customer experience throughout this journey.
3

Tests of improvement levers

1673

Customers who lived the experience
The challenges – How to get teams involved in a collaborative project?
The challenge was to increase customers' satisfaction who move out through several solutions – including services, loyalty rewards, postures – that we prototyped and tested in 2 call centres. We then had to evaluate the impact of these solutions on customer satisfaction by measuring the NPS. The challenge was also to involve call centre employees in the process, as they were responsible for communicating these solutions. We implemented an agile methodology with short cycles to continuously improve our solutions.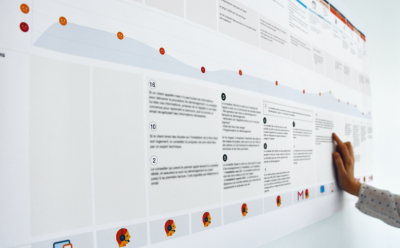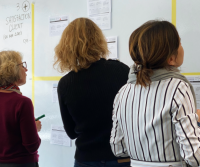 Our solution – A multidisciplinary organization
A multidisciplinary team made up of Orange, and ekino people worked collaboratively 2 days a week on two call centres for almost 5 months. In order to test the solutions identified and aimed at improving the customer experience on the moving out journey, ekino created prototypes and artifacts for the advisors (storyboard of the targeted experience, solution sheets, memory aids, etc.), and for the team (Kanban, experience map, customer follow-up file, communication tools, etc.). A satisfaction survey was regularly conducted to observe the NPS's evolution over time and thus measure the impact of the implemented solutions on customer satisfaction.
The results – A Net Promoter Score (NPS) multiplied by 2.5
The experiment – which consisted of testing solutions to improve the customer experience along the moving journey – resulted in a 2.5 times increase in NPS on two test call centres. Besides, the internal teams also became actors of customer satisfaction, which contributed to the acceleration of the transformation at Orange, notably due to different working methods (Agile methods). This experience also allowed us to standardize an approach that will be used towards other products.
Contact
Do you have questions or you want to evaluate the digitalization of your project in the telecom industry?
Contact us