Maersk -
Building stronger, more tangible customer relationships
Customer Experience & Service Design / Data for Digital
The objective – Putting Maersk front of mind
Over the past few years, Maersk has faced complaints by one of its important customer segments, who claim the brand has had unsatisfactory customer service and reliability issues.
As Maersk introduced innovative new features to address these problems, we were tasked with re-engaging customers, and re-enforcing relationships so as to put Maersk front of mind when it comes to shipping their commodities.
5,73%

Average campaign CTR on Linkedin

+40%

Live Chat usage by the targeted customers
The challenges – Finding the shared stories
To show customers in the segment that Maersk truly does care about providing the best service, we set out to find the shared, "in it together" stories behind thousands of transactions that customers make with Maersk every year. Because after all, these shared stories are what build relationships.
We began with analysis and profiling of Maersk's first party customer data and social listening data, which enabled us to understand who the targeted customers really are. We looked at the commodities each business ships and the volume of containers being shipped, to see where we could pull out compelling stories that truly elevated the human side of all those online transactions.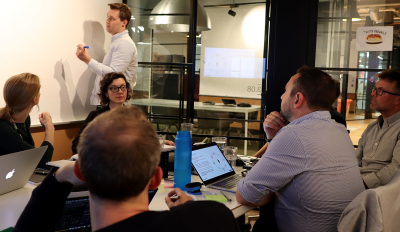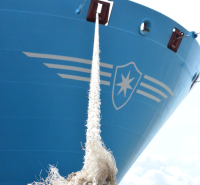 Our solution – To create meaningful messages
A multidiEach story was brought to life through hyper targeted media on LinkedIn, which lead with a personal and relevant message for each customer. Our posts presented their data in a creative way, asking customers if they really knew "how many containers they shipped with Maersk last year?" … was it enough, for example, that "when stacked, the containers reach the top of Mount Everest?" or, "how long would it take for a cheetah to run the length of all those containers in a line?" Intrigue led viewers to click through to a personalised landing page where they could find the answer. On the landing page, we also introduced Maersk's new features, such as Live Chat, which will help to ensure the relationship between Maersk and its customers grows even stronger.
The results – Strongest performance of any traffic-driving social media campaign of the brand
We achieved the strongest performance of any traffic-driving social media campaign the brand has ever run on LinkedIn, with an average campaign CTR of 5.73%, and the best performing audience delivering a CTR of 7.8%. Customers wanted to know the answer to the questions we posed, and the outcome of their shared stories.
The average engagement rate was 8.04%, while two of the targeted businesses delivered an engagement rate of over 10%. This is the strongest Maersk has ever seen on paid social media for static creative.
In addition to the above media metrics, we also started to measure against business KPIs—for example, we've already seen an uplift in Live Chat usage by the targeted customers of above 40%, supporting the overall objective of putting Maersk front of mind.
Contact
Do you have questions or you want to evaluate the digitalization of your project in the logistic industry?
Contact us