CAAS -
Translating legal and commercial banking challenges into an intuitive business tool
Customer Experience & Service Design / Digital technology / Consulting
The objective – Ensuring consistency of the regional banks' speeches
Crédit Agricole Assurances Solutions (CAAS) reached out to ekino for its Sales Support and Decision Support tools. CAAS is a subsidiary of the Crédit Agricole Group that offers insurance to individuals and companies as part of loans (and in particular real estate loans) to protect the lending institution and the subscriber in the face of life's hazards. The main purpose of the Sales Support tool is to enable standardisation of regional banks' discourse (while leaving them room for customisation) and have a base of contracts that can be reused for comparisons or other tools. Ekino was chosen for its expertise in JAVA, in Design, alongside its expertise in Agile methodology.
22

Regional Banks use the tool

4000

Connections per month
Challenges – How to support CAAS in a complex technical context?
We asked our experts to initiate the transition and accompany CAAS throughout the project (especially on the V-model shift to the Agile approach). One of our biggest challenges was integrating an external tool for contract comparison and the validation of banking requirements into the client's complex technical ecosystem.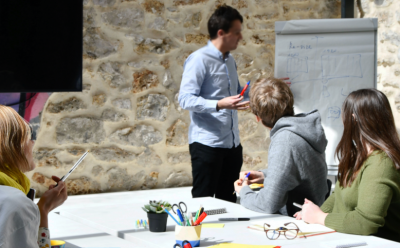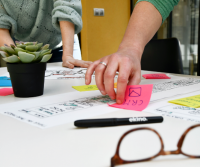 Our solution – By putting an Agile approach in place
We proposed a standalone technical solution that could process the client's data and provide an adapted result to their tools. CAAS was working exclusively in V models on its projects, ekino proposed a new approach using Scrum (Agile) to allow them to experiment. After a conclusive test phase, CAAS decided to extend it onto other projects and then move towards a SAFe methodology; this experimentation permitted them to change the way they organize their projects. Moreover, thanks to ekino, CAAS realized that its development processes were not industrialized. Therefore, we provided them with our expertise to modernize and propose new solutions that CAAS had not yet tested at the time, including Git, JIRA, Confluence, and Sonar.
« ekino was able to understand and translate legal and commercial banking issues into an intuitive commercial tool to be used daily. »
The results – A unique and intuitive support to build customer loyalty
The Sales Support tool has allowed CAAS to provide a unique support to explain to end customers how real estate insurance works and its advantages; it essentially prevents differences in discourses among the various insurance companies. The Decision Support Tool, which is part of an insurance cancellation life cycle, has allowed CAAS (and therefore the regional funds) to have a tool that allows them to verify that the end customer has the right to cancel their insurance.
Indeed, it is statutory to do this verification, and the customer's new loan insurance must comply with the bank's minimum requirements where the credit is located. Still, the idea is also to retain him at Crédit Agricole by making a counter-proposal.
Contact
Do you have questions or would you like to evaluate the digitalization of your project in the financial sector?
Contact us