Logistic Archives - Ekino global
Objective – Create customer value through a better experience
All players in the transport and logistics sector have taken the digitalisation turn in order to provide ever more innovative services. In this context, Bolloré Transport & Logistics called on ekino to improve the customer experience and develop new functionalities around LINK as part of the group's new Customer Digital Platform. LINK is Bolloré Transport & Logistics' (BTL) track & trace tool that allows its customers from different sectors and BTL's operational team to schedule and track international multimodal freight transport.
2

Service Design workshops

8

Design sprints in 3 months
The challenges – How to promote the Design approach as a vector of change management?
Our main challenges were: to promote the user-centered approach, to take into account the business needs of the different types of customers, to understand the business challenges, to use BTL's expertise in the logistics sector and to optimise the reliability of the data as well as the market, but also to improve and optimise the ergonomics of the existing platform while maintaining all the functionalities, and to create the first components of the design system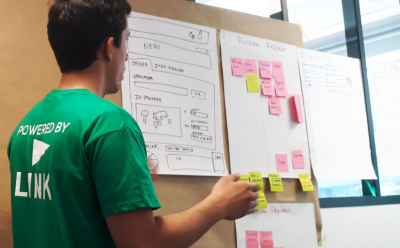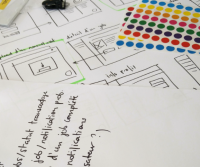 Our solution – Support Bolloré Transport & Logistics from the stage of evangelization to the development of new interfaces
During the 9 months of project, we went through several phases, including a UX/UI audit, user research, a benchmark, several service design workshops, and 8 sprints to work on the screens and design system. The customer interface was completely redesigned based on the elements collected during the user research phase. In addition to this, accessibility and usability rules have now been applied. Finally, beyond covering the initial functional scope, we also thought of integrating other services offered by Bolloré Transport & Logistics, so as to guarantee a fluid user experience covering all business needs.
The results – A new experience that meets the expectations of users and the technical needs of the IT department
The LINK tool was refocused around key user features, such as the search function. The user experience is now more fluid and intuitive, notably due to the graphic redesign of the interfaces. The provision of the Design System's bases allows for the IT department's technical teams to consider, more serenely, the scalability and coherence of future developments. These results are the fruit of the commitment from the various stakeholders as well as the end users throughout a co-design approach.
Contact
Do you have questions or you want to evaluate the digitalization of your project in the logistic industry?
Contact us