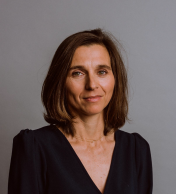 Orianne Trouillet
Head of Design & Deputy CEO, ekino Paris
20 years experience in multichannel experience design supporting companies and institutions in their digital transformation, both in France and internationally.
Since October 2017, Orianne Trouillet is Director of User Experience and Service Design at ekino Group. She brings together expertise in human sciences (cognitive psychology, etc.) and design (UX, service design, graphic design, space design, etc.) to support the definition and implementation of strategies for transforming her clients' organisations and businesses.
Her knowledge of large structures and the management of multidisciplinary and multicultural teams are an asset in the support of innovation transformation projects. She integrates the challenges of acculturation and awareness of user-centred approaches.
Before taking over as head of ekino's design department in October 2017, Orianne spent 6 1/2 years at Attoma, an agency specialising in service design and user experiences, as a Consulting Director, and 7 years at Orange where she developed the design & usability department of Orange labs in London.